Mountain Grove Tournament
Hang on for a minute...we're trying to find some more stories you might like.
On Tuesday, Jan. 23, 2018, JV and Varsity boys basketball took place in the annual Mountain Grove Tournament. The very first game wasn't good for both JV and Varsity. For Varsity, they played the Clever Bluejays. At the end of the first half, the score was 27-27. Marshfield Varsity was doing great. Then one minute into the third quarter, Clever went on a 8-0 run. Marshfield Coach Seigar called a timeout. After that, Clever just kept scoring more and more. Marshfield only managed to score 14 points in the second half but Clever scored 47 points with Clever beating Marshfield 74-41.
Coach Seigar quoted, "I want to make a change, I will get them better. Now we gotta win two times on the left side of the bracket."
Also on that day, JV played Clever. Neither team jumped to a big lead. JV lost that game by 3.
Coach Cook, JV coach, then quoted to his team, "Don't ever accept the feeling of defeat. It's not a good feeling."
Then Friday, Jan. 26, 2018, Varsity played the Ava Bears. Marshfield won that game by 19. The leading scorer was junior Tristan Letterman with 23.
Marshfield JV also played the Ava bears and won by one point. To win the game, sophomore Thomas Mcilwain got an Offensive rebound and then made a layup. That put us up by one to win the game.
Then the consolation game. Marshfield Varsity played homeschooled team Wright County Warriors. Junior Parker Dinwiddie had an amazing game that night coming out with the W with 14 points and insane handles on the court. Junior Austin Porter had 22 points and junior Tristan Letterman had an insane two handed slam dunk. He finished with 11 points. Just an overall good game by the Bluejays.
JV played the home team, the Mountain Grove Panthers. That game was also won by one. Everyone contributed to the game and also was an overall good win for the JV Blue Jays.
In conclusion, JV and Varsity got 5th place in the annual Mountain Grove tournament. Both teams came out of the tournament 2-1.
About the Writer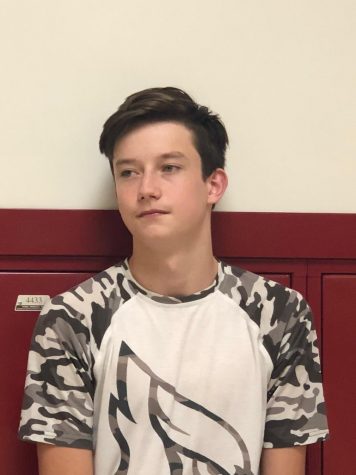 Bradyn Porter, writer
I'm Bradyn Porter. I'm a 15 year old freshman who likes basketball. I listen to 21 savage. This is my first year in the newspaper class. My favorite types...