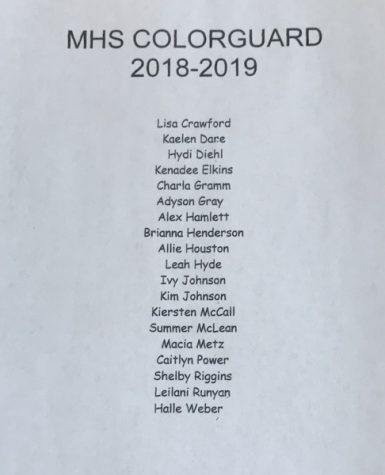 Destin Schroeder, Writer
December 14, 2017
On Friday Dec. 8, the new Color Guard participants for next year were announced. There were many new names and faces added to the list who will take the place of the seniors that will be leaving this year. Many people ques...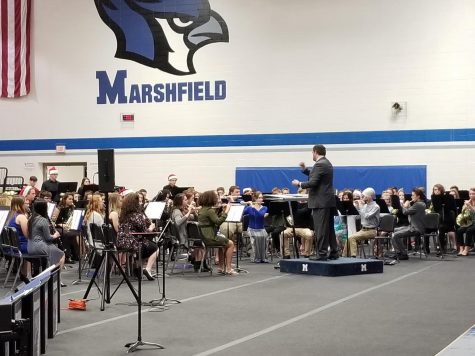 Savannah Clair, Writer
December 14, 2017
The Marshfield High School embraced the Christmas spirit Dec. 11 when the full high school band preformed a Christmas concert for anyone who wanted to attend. According to Lori Hutton, the MHS band director, the band had be...
December 14, 2017
The Marshfield Christmas Parade took place on Dec. 8 at the Marshfield Square and started at 10 a.m. The MHS band performed and marched along with many other sponsors including the Marshfield Fire Department, Girl Sco...
View All »
Irene Smith, Writer
December 14, 2017
The MHS Girls Swim Team had their first meet on Tuesday, Nov. 28, 2017. The swim meet involved the girls swimming individual relays and, based on what Maggie Groenke said, the girls all did great. Their other meets happen...
View All »
Tai Keowan, Writer
December 15, 2017
Our student spotlight this week shines on sophomore Tayler Brelofsky. Brelofskythis year has gone "pretty good" and she's "one more year closer to graduating." Her favorite class she has taken during high...
Ugh.. Not This Time of Year Again
December 15, 2017
December 15, 2017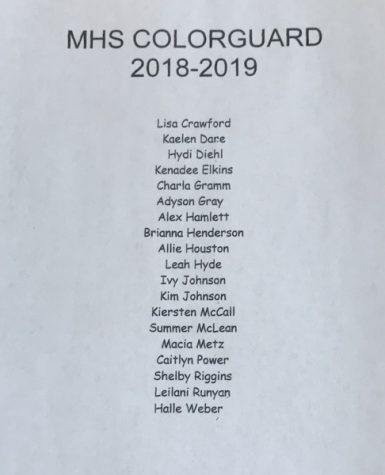 Color Guard's New Colors are Revealed
December 14, 2017
View All »
What are you doing for Halloween?
Watching a scary movie (35%, 6 Votes)
Nothing (24%, 4 Votes)
Trick or treating (18%, 3 Votes)
Working (18%, 3 Votes)
Going to a Halloween/costume party (6%, 1 Votes)
Total Voters: 15

Loading ...
Recent Sports Scores
Thursday, December 14

Varsity Wrestling

Marshfield High School 53 - Cassville 21

Thursday, December 14

Varsity Wrestling

Marshfield High School 38 - St. James 41

Thursday, December 14

Girls Basketball

Marshfield High School 53 - East Newton 21

Tuesday, December 12

Freshman Boys Basketball

Marshfield High School 61 - Camdenton 19

Tuesday, December 12

JV Boys Basketball

Marshfield High School 68 - Camdenton 48