Fields of Faith
Hang on for a minute...we're trying to find some more stories you might like.
Fields of Faith was held at the football field on September 10. This activity was completely free and open to anybody that wanted to come. The tailgate started at 5:30 and had food such as hot dogs, cookies, chips, and soda. At 7 pm you were allowed to go sit in the stands, but you could not bring any food or drinks.
Once everybody was in their seats they started playing music and everybody stood up to sing. The singers and instrument players were James Ghann, Kollin Bailey, Jackson Wolf, Averie Breeden, and Michael Pennington. Ellie Hartman stated that, "All the songs were really good but I wish they would've played Reckless Love."
Along with the singing, four students here at MHS gave their testimony. The kids that did this were senior Brock Utecht, senior Siera Mann, junior James Ghan, and eighth grader Jagger Robinson. They all did a great job giving their testimony and good job to them because that's probably not the easiest thing to do.
Along with the testimonies, singing, and praying there was a wonderful speaker. The speaker's name was Garrett Stalder. He lives in Pittsburg, Kansas and is a youth leader. According to freshman Haley Blankenship, "The speaker was really good and his speech was super inspirational."
About the Writer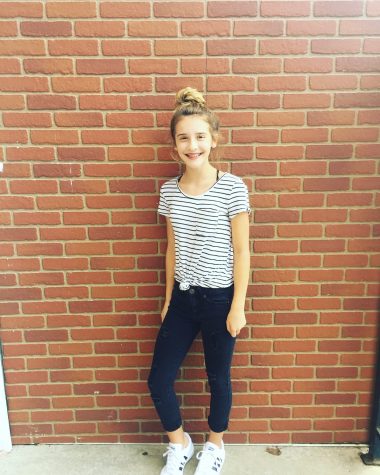 Harleigh Davidson, Writer
My name is Harleigh Davidson and I'm a freshman at MHS. I'm a cheerleader and I pole vault as well. I'm also involved in band, I'm in drum line and I play...