Little Shop of Horrors review
Hang on for a minute...we're trying to find some more stories you might like.
Meek flower shop assistant Seymour Krelboyne, played by Marshfield High School senior Parker Radar, pines for coworker Audrey, played by freshman Amy Barlow. During a total eclipse, he discovers an unusual plant he names Audrey II. Once Audrey II is placed in Mushnik's shop window, business for the shop starts booming. The only problem is that the Audrey II seems to be dying. No matter how well Seymour takes care of the plant it will not grow.  One day as Seymour is closing the shop, he pricks his finger on a rose next to the Audrey II, lust discovering that they Audrey II feeds only on human flesh and blood.
The growing plant attracts a great deal of business for the previously struggling store. After Seymour feeds Audrey's boyfriend, Orin Scrivello, DDS, played by High School senior Josiah Wolfard, to the plant after Orin's accidental death, he must come up with more bodies for the increasingly bloodthirsty plant.
As well as good acting in general, I was generally surprised by the amazing voice of Suzanne White during the song 'Skid Row' (Downtown). Another song that was a favorite of mine was 'Don't Feed the Plants' towards the end of the play. When all the actors came out they did an amazing job at filling up the stage and working as one. The vocals all fit together and it sounded and looked great. One of the other scenes that I loved was the dentist scene. On a couple of the shows the actors had some technical difficulties with the props, like the sign falling in one show and the chair not raising in the other, but they did not let that stop them. They did an amazing job at playing it off and working with what they got and it turned out amazing!
Little Shop Of Horrors is one of the many plays put on here at Marshfield High School. Opening night was Thursday, Nov. 16 and it continued to run Friday, Nov. 17 and Saturday, Nov. 18 at 7:00 p.m. at the Carl and Glessie Young Community Auditorium.
About the Writer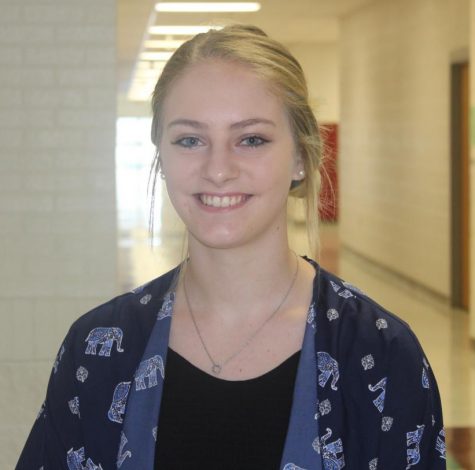 Jordyn Koons, Editor
Hi! My name is Jordyn Koons and I am the editor of the Marshfield Jay Chatter. I am 17 years old and a senior at MHS. My favorite thing to do is hang out...