Volleyball Takes a Win
Hang on for a minute...we're trying to find some more stories you might like.
On Thursday, September 6th, our junior varsity and varsity team competed against Ava in a volleyball game. Both teams took the floor and did amazing. Varsity and junior varsity got a big win and had some great moments. We can't forget about Loud Crowd who was by their side cheering for them the whole time. The team and the crowd were hyped up and ready to get the win.
Both Ava and Marshfield came to the game ready to win. Our junior varsity and Ava's junior varsity were head to head. Marshfield had won a set and so had Ava. A set is one period and one of the teams has to reach 25 points in order to go to the next set. It was very intense because whoever won the third set would win the game. Marshfield stepped up their game and took the win. "I think they played good as a team and had their heads in the game," said freshman, Maddie Coltrane.
Varsity took the crowd by storm with their huge win. They had some great moments that were super exciting. Marshfield was behind in the second set. They then stepped it up and were able to get a few good serves and spikes. It was super exciting to see them get back on track and pull ahead. They were moving fast and kept a good eye on where the ball was at all times.  They were really supportive of each other and worked together as a team. It was a very exciting, high energy game. The girls had their head in the game and were super ready to win. They believed they could do it and they did. The whole team had great attitudes on the court which helped them a lot.
Loud Crowd is a super exciting experience. They were super hyped up and wanted the girls to rock it. They were at their side the whole day chanting and screaming for them. Loud crowd makes the team more motivated and excited to do their best. They definitely add an extra passion to every game. Freshman Savannah Smith said that, "It shows the players how much we enjoy cheering them on and it brings the students together, plus it's super fun with the themes!"
Overall our team was super happy about their win. They played hard and they deserved it. We all can't wait for their next game to see them hopefully win again. Ava played great as well. We can all say both teams played their best!
About the Writer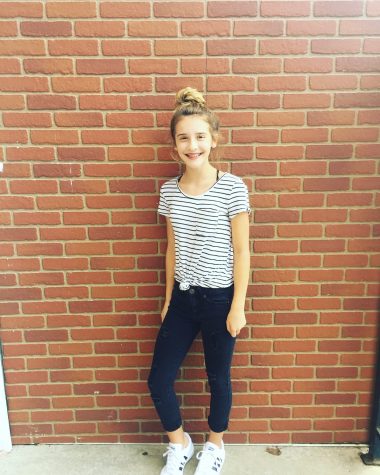 Harleigh Davidson, Writer
My name is Harleigh Davidson and I'm a freshman at MHS. I'm a cheerleader and I pole vault as well. I'm also involved in band, I'm in drum line and I play...