The Greatest Hoco!
Hang on for a minute...we're trying to find some more stories you might like.
Homecoming 2k18 was a blast. It was held on Saturday, September 22. and went on from 7 pm to 10 pm. Doors opened at exactly 7, no earlier and no later. Right when the doors opened, people came flooding in. There were about 4 teachers that were letting students in. Before you got let in the teachers checked to make sure you had your ID and ticket. If you didn't have one of these things you couldn't get in. Freshmen Katelyn Hayes said, "I forgot my ID in my mom's car, so I had to call her and have her bring it to me to get into the dance."
When you first walked into the gym they had a table to your left. The table had lemonade and water. It also had snow cones. These snacks were all free so that came in handy. The teachers were filling the lemonade and water cups left and right. They were very busy and made sure every kid got something to drink if they wanted one.
Not even 5 minutes into the dance there was a warning. Principal Curley came over the mic and reported, "If one more person is seen vaping, the dance is over." Everybody was pretty upset that the dance might be ruined because of a couple kids. Luckily after the warning the vaping stopped and there wasn't a problem with it for the rest of the night.  
The lights were off during the whole dance. There were flashing colorful lights that helped you see a little bit. Still, nothing was completely visible. The music was blaring new and old songs that everybody loved. People were dancing, singing, and overall having a blast.
For the freshmen the whole homecoming thing was a new experience. At first some didn't know what to think, but after a bit they got more comfortable and started having fun. Freshmen Ragan Winegard stated that, "It was definitely the best night ever, it was super fun!"
Overall most everybody said homecoming was a success. Sadly it was the senior's last homecoming. Other than them, most everybody is ready for next year. The whole experience was great and most people had an unforgettable night!
About the Writer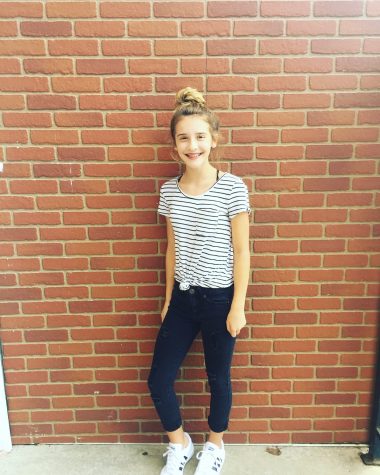 Harleigh Davidson, Writer
My name is Harleigh Davidson and I'm a freshman at MHS. I'm a cheerleader and I pole vault as well. I'm also involved in band, I'm in drum line and I play...