Zombie Prom Auditions
On August 22 and 23, Mr. King held musical auditions for a play called Zombie Prom. Students were required to have 16 measures of a Broadway style piece for auditions.
For the audition process, King said "for the first step we just want to see what they can do at their best. That's why I ask they come with something they have prepared to show off their voice." After the first step it becomes easier to make some decisions, according to King. If the judges needed to see a person again they would call them back in for another audition, and at that point the performers would be reading and singing from the script of the play. The decisions to finish out the casting are based off of that, the same process that occurs in the professional world, King said "that is why I do the audition process that way, so that the students know what the process is outside of high school and they're prepared for it."
Senior Leah Hyde, who has been a couple plays, specifically The Little Shop of Horrors and Mary Poppins, before trying out for Zombie Prom. According to Hyde the whole process takes two to three hours and they had to sing sections of the musical. Hyde said, "Mr. King is low key really scary and the whole experience is really nerve racking." Hyde also stated that King had them stand in a line to see who they would look good with for the play.
Mr King described Zombie Prom as, a girl-loves-ghoul rock and roll Off Broadway musical, takes place at Enrico Fermi High, ran by a zany, and tyrannical principal. The school is located near a very unstable nuclear power plant. An attractive senior named Toffee at the school has a thing for the class bad boy. When her family pressures her into ending this romance, the boy drives off on his motorcycle to the nuclear waste plant. The boy returns glowing and ready to reclaim Toffee's heart. While he still wants to graduate, more so he wants to take Toffee to the prom. The principal orders the boy drop dead while a scandal reporter seizes on him as the freak du jour (of the day). History comes to the boys rescue while a wide selection of original 5os styled songs keep the stage going.
The Fall Musical will be Nov. 21-23. For more information on the play keep an eye on the walls or contact Mr. King.
About the Writer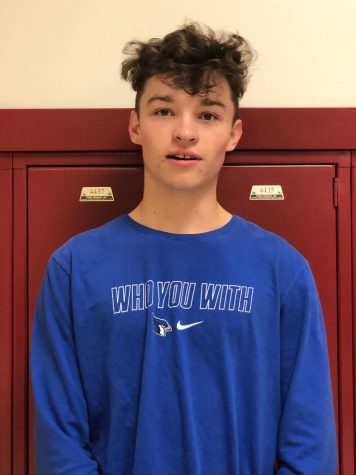 Ethan Ragsdel, Writer
My name is Ethan Ragsdel, I am 17 years old. I work at RibCrib and enjoy hanging out and playing 2k with friends.