Spring Concert
On Tuesday, April 23, the seniors had their last ever high school band concert! Not only was it the last concert for seniors, but the last spring concert for the rest of band as well. Macy Kritch stated, "I was sad that it was my last concert because I have been so involved with band all four years of high school. I think all three bands played really well at the concert! They all worked together and really showed the true meaning of music!"
Kritch is just one of the seniors in band. Krich plays the baritone saxophone in wind symphony, the clarinet in concert band and is partial secretary and bass drum player in symphonic band. During marching band season, she was drum major. She has been involved in band all four years of high school. Kritch does plan on carrying some of her music career into college, but she plans on majoring in nursing.
The concert started at 7 p.m. but band members were ready and warming up at 6:30 that evening. Concert, symphonic and wind symphony all played at the concert. Concert band played the songs Blaze by Rob Romeyn and Dances Fantastique by Hector Berlioz. Symphonic band played Prestissimo by Karl L. King, Ammerland by Jacob De Haan and finally Canto by Francis Mcbeth. Wind symphony played Symphony No. 4 by David Maslanka and Rollo Takes a Walk by David Maslanka.
Freshman Gabe Mellington stated, "I'm in concert band and I think the band as a whole played a lot more confident then what we usually do, which is good." Mellington is a percussionist and has been involved in band since seventh grade.
The band has been working on the songs they performed for a few months now. All three bands recently went to a competition at Parkview where they played the same songs they played at the spring concert. Each band got one rating on all of their songs. That is the best rating you are able to get at a competition. They band as a whole took back three of their own trophies that day.
The band directors are Rick Castens and Dan Wyman. Castens has been teaching at Marshfield for 8 years and Wyman for 5 years. They put together all the bands concerts and events. Freshman Maddie Coltrane said, "I honestly don't know what we would do without Castens and Wyman, they have made us into the great players we are today!"
About the Writer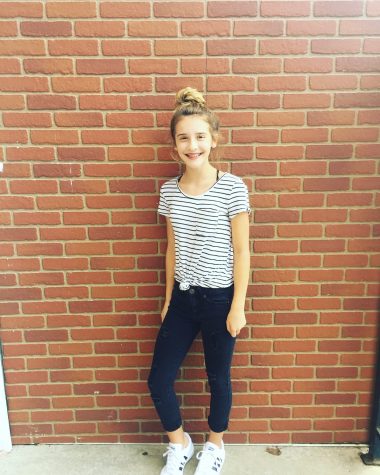 Harleigh Davidson, Writer
My name is Harleigh Davidson and I'm a freshman at MHS. I'm a cheerleader and I pole vault as well. I'm also involved in band, I'm in drum line and I play...