Dancing With The Stars
Dancing with the Stars took place on Saturday, March 30. The purpose of Dancing with the Stars was for senior to raise money for project graduation. Project graduation is a celebration after graduation as a final send off for the seniors. Seniors were able to choose someone that they admire in the community to dance with in Dancing with the Stars.
The contestants had to sell tickets and seats on the floor. They passed buckets for donations all throughout the crowd. The amount of sells each dancer got also went into their final score.There were three judges, two guys and one girl, so they had a variety of opinions.
Maddie Gardner watched her older sister compete in the dance when she was a senior and that's when she knew she wanted to dance in this event. Gardner told her best friends dad that she wanted to dance with him for the event, she said "I just thought it would be really fun back then." Gardner and her partner begin working on their dancing routine in February and practiced two to three times a week. Gardner has some personal feelings towards the judges. "One of them gave me a really low score and I'm really mad about it, and other dancers did less and got the same score as me." said Gardner.
Gardner and her partner took third in the dance, she said, "It was a lot of fun, it was way more work than I ever expected, and way more competitive and nerve racking, and I encourage everyone to do it their senior year!"
Kollin Bailey, who tied for second danced with Sara Bull. Bailey said, "It goes by really quick, and you really don't remember it." If you were to ask Bailey how his routine went, he would tell you, "we were really bad dancers."
Maycee Fishel has been in Jaywalkers since her freshman year and has wanted to be in the dance ever since. Fishel recruited a fellow Marshfield graduate named William Thomas, who now teaches at Glendale. They started their routine after Christmas break and met at least once a week. Thomas' wife choreographed their routine and coached them. According to Fishel the judges were good, as they gave her the only perfect score of the night. Fishel said, "It was super fun, but really stressful." Fishel wasn't at all prepared two weeks prior to the dance, but kept practicing and she ended up winning the contest. Fishel said, "It was super fun seeing everyone in my grade and seeing them out of their comfort zone."
All the seniors who participated in Dancing with the Stars said, "We encourage everyone to participate in Dancing With The Stars." At the end of the night, a little over $14,000 was raised for Project Graduation!
About the Writer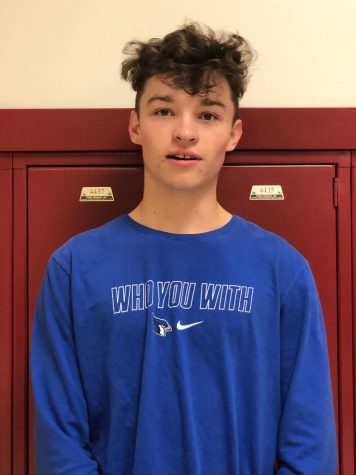 Ethan Ragsdel, Writer
My name is Ethan Ragsdel, I am 17 years old. I work at RibCrib and enjoy hanging out and playing 2k with friends.