The Upside was a true Upside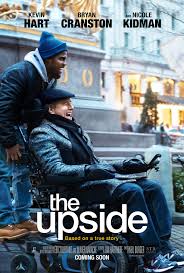 On Friday, Jan. 11, the film "The Upside" was released into theaters. The film is a drama/comedy based on a true story that features well known actors like Kevin Hart and Bryan Cranston. The movie centers around Kevin Hart's character, Dell, who's had trouble with the law and is struggling to find a job to stay out of prison. Cranston's character, Phillip, is a paraplegic and is also a very wealthy entrepreneur who is in need of a caretaker. With Dell mistakenly goes to the job interview, even with is lack of experience, he is granted the job offer. After slowly transitioning to the new adjustments, a special bond begins to form between the two men and turns into an unlikely friendship.
I personally thought the movie had the perfect mix of comedy and drama. The relationship between Hart and Cranston is something people can marvel at. If you like Kevin Hart films with lots of laughs and meaning, this is the film for you.