Cheerleading State 2018
Hang on for a minute...we're trying to find some more stories you might like.
The Marshfield High School JV and Varsity Cheerleaders left for state on Friday, Nov. 30. They left right after school and got to St. Louis around 7:30 that night. The Varsity team performed the next day in a timeout division. The timeout division is like a timeout in basketball but without the basketball players. They had exactly one minute to perform the routine they put together. If the buzzer buzzed while you were going you had to stop. Varsity ended up getting fourth place in that division.
The next day both JV and Varsity competed in the actual competition. JV warmed up before their performance which was at 12:37 p.m. When it was time to go everybody was super nervous. "Right before we walked onto the mats I thought I was going to throw up because of how nervous I was," said freshman Lilliegh Rahmoeller. JV did all their stunts and jumps perfectly and tumbling was in sync. Freshman Chloe Cantrell stated that, "It was probably our best performance we've ever had, there was so much energy and we were determined to get first."
Varsity performed later that day at 1:12 p.m. They got on the mat and did a good job as well. Their jumps and tumbling were all in sync and their cheer had a lot of energy. They had a lot of excitement and did a great job at getting the crowd involved. "I think it went good and I'm very proud of our team" said Sophomore Jadyn Hyder.
Awards were at 3 p.m. and both teams were super nervous. Everybody was super excited to see what place they got because of all the hard work that had been put into it. JV ended up getting first place. Freshman Ragan Winegard stated that, "I'm so happy about getting first, thinking that we are state champions is crazy!"  Varsity ended up getting third place. Senior Ashleigh Matney said, "It was really heartbreaking to know that we lost by 3 points, but at the same time it's nice knowing that we are up there with the best."
About the Writer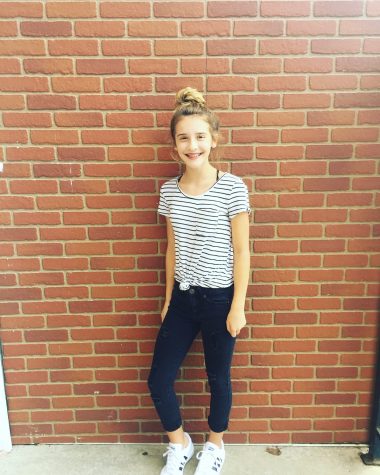 Harleigh Davidson, Writer
My name is Harleigh Davidson and I'm a freshman at MHS. I'm a cheerleader and I pole vault as well. I'm also involved in band, I'm in drum line and I play...