Cheer Regionals 2018
Hang on for a minute...we're trying to find some more stories you might like.
Cheerleading Regionals was held on Saturday, November 10. The cheerleaders took a bus up to Washington, St. Louis on Friday, Nov. 9. They stayed overnight in the Best Western Hotel because the JV cheerleaders performed at 9:20 am the next day. The varsity team performed at 8:15 pm later that night. JV ended up getting 1st place and varsity got 2nd. Freshman Kathryn Bransfield stated that, "I'm on the JV squad and I'm really proud of us, we worked super hard and it ended up paying off."
"We woke up around 5:30 am so we could get ready and be at the St. Francis Borgia Catholic school by 8 am. When we got to the school we got 5 minutes on three different mats to warm up. We then went to a separate gym where we perform at 9:20 am. We were all really nervous before performing but at the same time super excited.
When they called our name we all walked out onto the mats and got into our formation. When they told us to start we acted as if we weren't nervous at all. We did all of our stunts perfectly and we were super ecstatic. We got an overall score of 304 and ended up getting first place. Getting this score put us 40 points ahead of the second place team. We preform at state on Sunday, December 2. We had a hard routine and we were ready to nail it!"
Later that day at 8:15 pm they came back to the school to watch varsity perform. They did good as well and did most of their stunts perfectly. They had a hard routine as well and were ready to show it to everybody. They ended up getting second place and were super happy about it. Everybody did a great job and the coaches were super proud. Sophomore Jadyn Hyder stated that, "I'm on the varsity cheer squad and I'm super happy about our performance."
About the Writer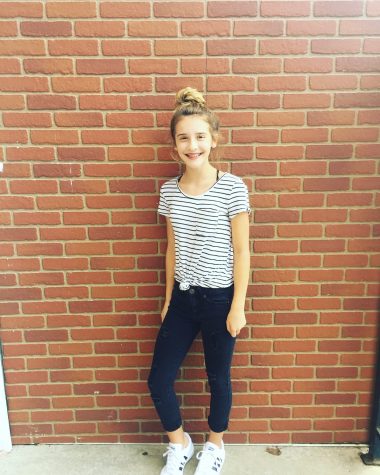 Harleigh Davidson, Writer
My name is Harleigh Davidson and I'm a freshman at MHS. I'm a cheerleader and I pole vault as well. I'm also involved in band, I'm in drum line and I play...