Transitioning Into a New School Year
Hang on for a minute...we're trying to find some more stories you might like.
Everybody loves the transition into the new school year. You get to meet new people and have a lot of fun. We have a lot of new people this year, such as Lindsay Capps, who says her favorite part of transitioning into a new school year is "a fresh start and making new friends."
It's hard to transition from summer into school. In summer you can swim in the pool all day, sleep as long as you want, and hang out with friends all the time. Come on, that's hard for anybody to give up, therefore you probably had mixed emotions about transitioning into a new school year. But you can't forget the good parts like meeting new people, going to fun activities and even meeting all your new teachers. One of our wonderful teachers here at MHS is Mrs. Ragsdale. She teaches Language Arts and says what she loves about transitioning into the new school year is "meeting all of her new students."
There is one specific thing everybody hates about jumping into the school year. We can probably all agree that mornings are the absolute worst. Waking up early is definitely NOT for everybody. "I hate waking up early. I'm definitely not a morning person," says Maddie Coltrane.
Transitioning into the new school year means that you get to get into sports and other fun stuff. We have lots of clubs here at MHS who would love to have you join. We always have plenty of sports that you can get into. Clubs and sports are one of the best things about getting into a new school year. Haley Barker stated that "becoming a part of high school academics is my favorite thing about transitioning into a new school year."
Ugh the dreadful homework. We can probably all agree that homework is definitely not on the favorite list. It's hard to go all summer without seeing a single page of math or any other subject for that matter. A summer of watching tv instead of doing homework is always a nice change, but then school starts. Here comes the pile of homework, no tv for you tonight. "Homework is by far my least favorite thing about school," says Maddie Coltrane.
Meeting new people is by far one of the funnest things about school. Doesn't everybody like to make new friends? New people to be around can be super fun. Even introducing yourself to new people is a step, you all should become friends with somebody new! "Having new people to interact with is awesome," says Breanna Pohlenz.
Transitioning into a new school year isn't always easy, but it's lots of fun. There are always bad and good things but the good definitely tops the bad. We are all going to miss summer at least a little bit, but this year is going to be great! There are plenty of fun school events and activities waiting.
About the Contributor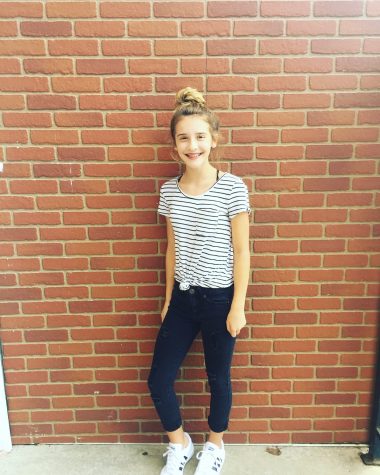 Harleigh Davidson, Writer
My name is Harleigh Davidson and I'm a freshman at MHS. I'm a cheerleader and I pole vault as well. I'm also involved in band, I'm in drum line and I play...