What? There's an art gallery?
Hang on for a minute...we're trying to find some more stories you might like.
Marshfield High School offers multiple art classes with four different teachers each semester. With the art classes come several amazing art projects that have to be shown off. Each art class has a display case for this reason. Jennifer Glenn has the display case next to her classroom as well as the one in the commons area and Tina Hyde has the display case next to her classroom and the art gallery by the mezzanine.
Several students in all grades have artwork down that hallway and most students don't even know that the art gallery is there. Senior Kellie Keithley has a few of her art projects hanging on the walls and she was not aware of the art gallery being an actual thing.
"I didn't know there was an art gallery, but I also never walked by it during school," states Keithley.
Currently, Hyde makes the decision on what artwork is hung up in the art gallery and she herself hangs the projects up on the walls, but she would like the job to go to National Art Honor Society (NAHS). Hyde also would like "students to appreciate and respect the work of their peers and treat that hallway as a real art gallery space."
This art gallery is important to not just Hyde, but to the students in art classes as well.
"It made me proud of my work. It made me feel like the work I put into my artwork was actually appreciated," sophomore Khara Avery said.
Senior Tori Bargewell comments, "It's kind of eye opening seeing all the different styles people use and having their work side by side. It makes you want to have you want to have yours stand out."
Hyde comments on something more she would like to get out of the art gallery and students. "I would want students to pay attention to their surroundings. We have beautiful art displayed all over the building, but our students don't slow down to look. Some treat our halls as a playground. I would like for our students to be respectful and responsible for their space. Several frames have been broken through careless horseplay. I would just ask that students in the halls be mindful of their space."
Take a few minutes throughout the day to look at the walls and display cases. The quote, "stop and smell the roses" really fits in with slowing down and appreciating the artwork all over the school.
About the Writer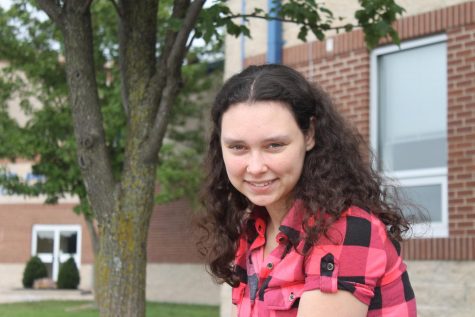 Ally Ayers, Editor
My name is Ally Ayers and I am a senior this year. My favorite color is blue and I really like to read and write.  I also like to listen to a lot of different...