Leaving Iowa
Hang on for a minute...we're trying to find some more stories you might like.
A new play called Leaving Iowa will be coming to Marshfield High School in the spring. Performances will begin Feb. 22 and will last through Feb. 24. A Renaissance play for the students at Marshfield High School will be Feb. 21, one day before opening night.
The spark behind Leaving Iowa comes from being children of parents from the now dubbed "greatest generation." The story is a toast to their idealism and character and a little roast of their undying dedication to the classic family road trip. More specifically, it is the story of Don Browning, a middle-aged writer, who returns home and decides to finally take his father's ashes to his childhood home, as requested. But when Don discovers Grandma's house is now a grocery store, he begins traveling across Iowa searching for a proper resting place for his father. This father-and-son road trip shifts smoothly from the present to Don's memories of the annual, torturous vacations of his childhood. Don's existential journey leads him to reconcile his past and present at the center of the United States. Leaving Iowa is a postcard to anyone who has ever found himself or herself driving alone on a road, revisiting fond memories of his or her youth.
According to play director, Kevin King, when picking which play to do they try to take the student body in and see what would fit best for them. Also, how they get along together since they are supposed to be family in the play.
"The student body we have right now fit this one so perfectly! It's gonna be great," said King.
Auditions for the play were held Dec. 4 and 5 and callbacks were Dec. 7. The final cast list for Leaving Iowa is:
Don Browning- Josiah Wolfard
Dad- Parker Radar
Mom- Noel Baker
Sis- Kyla Whittaker
Character Guys
Michael Graves
Elijah Wolfard
Samuel Jackson
Character Girls
Tatum Manary
Holly Smith
Ashlynn Harrod
As well as a cast list, a crew list has also been posted on the wall. Anyone has the chance to sign up to be apart of the crew. Sign ups end Jan. 12, 2018 so you have until then to get your name down on the list.
King said, "Even if the column you are wanting to do is full just write you name down next to it, make your own line. I want to see who we have and who is interested in what."
Remember to mark your calendars off for at least one day between Feb. 22-24 if not all! King said, "The play is going to be hilarious and everyone needs to come see it! It's going to be great!"
About the Contributor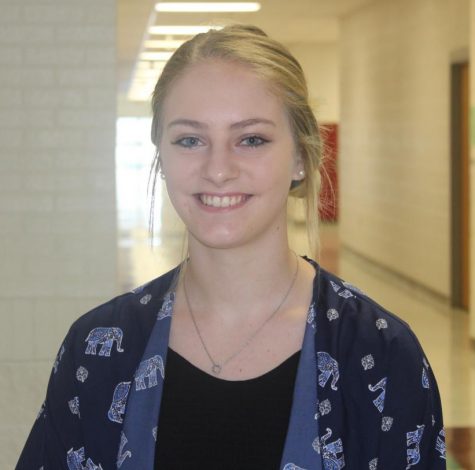 Jordyn Koons, Editor
Hi! My name is Jordyn Koons and I am the editor of the Marshfield Jay Chatter. I am 17 years old and a senior at MHS. My favorite thing to do is hang out...